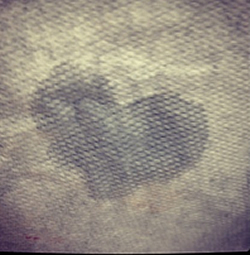 If you have ever looked up at the sky and asked for a sign to confirm something or comfort you, you will understand Penny's wish. In a season when we remember three wise men and a star in the night sky, a sign pointing the way to a promised king's arrival, we continue to look for evidence that a good God really exists and that He cares for us. Penny was doing just that when we met for lunch one day.
"I've been asking God for a sign recently," she told me.
"A sign?" I asked, taking a quick bite of salad and talking with my mouth full, my elbows resting on the table. I silently apologized to my mother who really tried hard to make me eat like a lady.
"Yes, you know," Penny said, "something to let me know God is really here. Since I started asking Him for a sign, I keep seeing hearts in odd places—like the one formed by the sun shining on my bedroom comforter and then later in a shadow on the table runner in my dining room. I even saw a heart on a napkin after I wiped the side of my mouth," she declared.
"Hmm," I said, wondering why she was looking for hearts in strange places. It was perfectly clear to me that God had been sending her signs of His love ever since I'd met her.
I'd first encountered Penny in a classroom where she learned I was the author of inspirational books. On a quick break, in the restroom of all places, she asked me about my writing and later bought my books.
She was particularly touched by a story called The Crib from my first book, about my children's loss of an earthly father and the promise of a heavenly one.  About a month later she emailed me and asked if we could meet for lunch so I could sign the books she'd bought. Over lunch that day she explained that The Crib had brought up some old wounds in her heart, memories of her own father's abandonment. Recently her son had left his family. One of his daughters was acting out in so many angry ways that she was in danger of being suspended from school at the tender age of six! Father loss and its resulting heartbreak was becoming a generational pattern in her family. She was feeling the need for a sign that God was around.
As we talked, I told her the rest of story of The Crib that wasn't in the book. How my son's broken heart from his father's leaving had reared its ugly head in his twenties and stolen six years of his life. How I had struggled and prayed and panicked and how eventually, led by scriptures from the book of Nehemiah, God had called a small army of people to pray my son out of his illness and back into health. "Our God is awesome and mighty…our God will fight for us," Nehemiah said. And he was right.
"It took a long time for my son to recover," I told Penny, "so don't give up. Sometimes you just have to hold on long enough for God to do His work."
She left that day with new hope that even if it took time, she, her son and granddaughter could all find healing. A month or so later she sent me the following email:
You sharing your story about your son helped me realize that no matter how long we shove our hurts down inside us, sometimes they bubble up to the surface and have to be dealt with. Watching my granddaughter suffer the loss of her father is bringing up old wounds that I thought long buried. We are all broken in some way, but God knows all about it and has the perfect solution for us all. Thanks to all the prayers, my granddaughter, Autumn, is doing much better in school, and the teacher, counselor and her mother are encouraged by her progress. I have been talking with her about Jesus and how she can better behave herself. She was telling me that one of her favorite books at school is Hands are Not for Hitting and it gave me an idea that she and I should write a book about daddies who leave. So we did.

It is very sweet and very childlike, with many of her direct words. I think it was good for her and even better for me. I explained to her that lots of people, young and old, have daddies who leave. Some die, go to war, get sick, or just go live somewhere else—but just because they leave it doesn't mean they don't love you. I said, "When your real daddy can't be there, remember that God is your Father too and he is always there and will never leave."

She said, "Well Nana, God is your real daddy, too!"

Oh, how right she is! The student teaching the teacher. We captured it all and ended the book with a little childish prayer. I am going to make it into a real book to give her for Christmas.

Sometimes I think we miss the real signs of God's work in our lives. After all, Penny had been through quite a journey, all because of a series of "random" events. In a class at work, because of a short introduction, during a restroom break, she was led to a book that opened a hidden wound in her heart and encouraged her to talk about it. Then, at a lunch, with a person she barely knew, she heard another story of brokenness and healing that mirrored her own, leading to time with her granddaughter and the creation of a book that may heal more than one generation. That seems like a lot of signs to me that God is working in your life. I'm not sure you need the heart on the bedspread to see that He is present and He participates in the moments of your life; that He longs for your healing and that He will go anywhere, do anything, to reach you when you are reaching for Him.

When I finally got the pictures Penny took of the random "hearts," they looked a lot like the star that broke through the Bethlehem night so many years ago. Maybe she was already getting the signs she needed but when I looked closer at her pictures, I remembered that daddies not only fix things, they kiss us goodnight too. And those tender kisses show us that not only do they long to help us, but that we have their heart as well.

Who's to say that the hearts she saw weren't goodnight kisses to a daughter who had long ago lost her earthly father's kisses and reassurance? In this season, where we see God's love mirrored in a baby in a manger, we are assured that we have God's heart as well as his help. That is why we keep hoping.