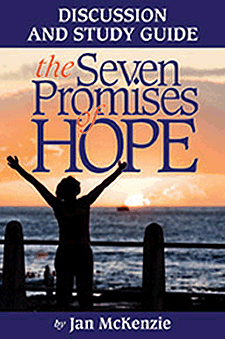 The Seven Promises of Hope Discussion and Study Guide is a "game changer"—a chance to experience the kind of hope that transforms the way you experience life. Come find the power of hope and the promise of your future.
Each chapter is divided into three sections to help you understand and apply the promises. In Pondering the Promises you see how hope works in the lives of real people. Looking at Life shows you how hope has personally impacted you—both in the past and the present—and how that affects everything you do. Searching the Scriptures is all about connecting the dots between God, hope, and your future.
With The Seven Promises of Hope Discussion and Study Guide, you will experience each promise of hope brought to life, your
---
Buy the Study Guide
View The Seven Promises of Hope Book
---
Reviews
This study guide is a real "game changer" for the heart that is ready!

Jan's stories are so personal and inspirational you can't spend time with this book and not be moved. Read it. You're in for a treat.

Hope is making a new debut. The Seven Promises of Hope lives up to its promise of helping us find, understand and use hope in a powerful way. In today's unsure world there is nothing more important than hope. Jan's book will encourage and inspire you to keep your head up and be positive. It's a great read!
---