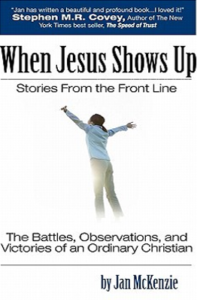 Whether you enjoy this book all in one sitting or read it as a daily devotional,When Jesus Shows Up is a sure source of encouragement and inspiration. A collection of true short stories, it seeks to help you answer the age old question "Where is God in the everyday moments of my life?"
Come monitor the movements of a loving God whose tool box includes used baby cribs, garden hoes, the neighbor's cat, mountain stars and the YMCA. Expect to find your own life reflected in these sometimes funny, always heartfelt, tales. You may be surprised to find that the landscape of life is very different when you can see God at work.
---
Samples
Audio: Introduction to When Jesus Shows Up
Audio: "The Crib" from When Jesus Shows Up
Recordings by Elizabeth Pantana McKenzie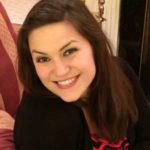 Jan reads Miss Kitty: A Promise of the Heart
Read a Story:
---
Reviews
Jan has written a beautiful and profound book, one that will draw you in with her understanding and will fill your heart with her insight. I loved it.

This book relates the author's sensitivity to the relationship between her daily activities and her strong faith in God. This is not about epic religious and world events, but rather going about day-by-day and being sensitive to the guidance and strength that come from belief. Ms. McKenzie's sense of humor and self-deprecation are delightful. Her uncanny observations about the needs of others and how God plays into their lives as well as hers are insightful. This short book of a personal journey through the ups and downs of life provides a guide for meditation. You, too, will be inspired and uplifted by its message and spirit. And you will never again take for granted the politeness of a stranger at the YMCA or ignore the pain of a co-worker.

I know the author personally and have been a part of some of these stories, yet, as I read it for the first time, I laughed, I cried and I was comforted by the reminder that God always shows up. Even when I don't recognize until later that He is in the midst of every sorrow, joy and circumstance, He is there. This book was such a wonderful reminder of that. You will feel like you are right in the middle of the story and will come away knowing that He will show up in all of your circumstances too.

This is such a great little book. It's comforting and wise. It will be one of those books I'll return to over and over again as time goes on. I'll treasure it forever!

Jan McKenzie shares her life in this book- some details of a life of faith. She does it in a way that you look forward to each story because you know there will be at least one nugget of simple truth about God and our relationship with him. The author writes with transparency, humanity, and humor. You will finish it wanting to have more of those qualities in your own life of faith.

Jan very skillfully breaks down the true purpose of our lives into meaningful pieces. Reading her stories, I felt as if I were sitting next to her in a quiet room, connecting with her joys and pains, highs and lows, but, most importantly, perspective. In each of these short, but powerful pieces I was left with an overwhelming feeling of hope. She encourages us to face our fears, but to find the strength inside us to be strong. Jan, thank you for bravely sharing and inspring others to do the same.

Jan's book should be on everybody's nightstand, it should be dog-eared, have sticky notes poking out from between the pages and it should have underlined sentences. If you have friends, family, co-workers, or a nice mailman, you need to buy this gem.
---